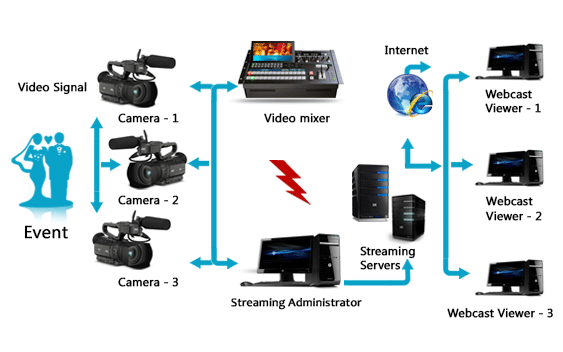 Why Clive Streaming for Marriage?
Clive have High Quality of Internet bandwidth it helps to web casting marriage event around Chennai, India. Share your Wedding event live at any country in the World by the Clive Streaming Company. Clive is Webcasting Company in India which streaming more than 9 Years, 474 events has been streamed live.
In Clive offers huge types of Packages as per events at best cost streaming for marriage, CEO Address, Product Lunch events,Baby Shower, Birthday function,Video Conference, Church worship streaming etc.
Clive is Group of CFibernet, its' Internet Services Provider Company in Pondicherry reason of that we are Internet hoster in our region. If Marriage couple need to stream their wedding live through out in India, we easy to access the signal from our Internet Satellite. Our Webcasting experts visit before day of wedding or any other function like Corporate companies we will address before day to check the signal variation, we will handle the camera, and all equipment to including Internet device to store the video at video on demand to display the event in the Internet.